We, at Seattle Staged to Sell, know the importance of designing rooms that will create emotional connections not just for the grown ups, but their kids as well. When you are selling a home, you are not just selling it to the parents but to the whole family.
That doesn't mean that a kid's room should have props such as boy band or video game posters to excite the kiddos. A kid's room can be perfectly sophisticated without having to sacrifice the fun.
Home staging is all about creating a lifestyle, and for kids' rooms we keep in mind kids' interests. We use props that resemble possessions kids likely have so they can easier imagine living in the home. The athletic and text book props below show a balance between a kid's social and academic lives. The mix of props suggest this room is a perfect place for both.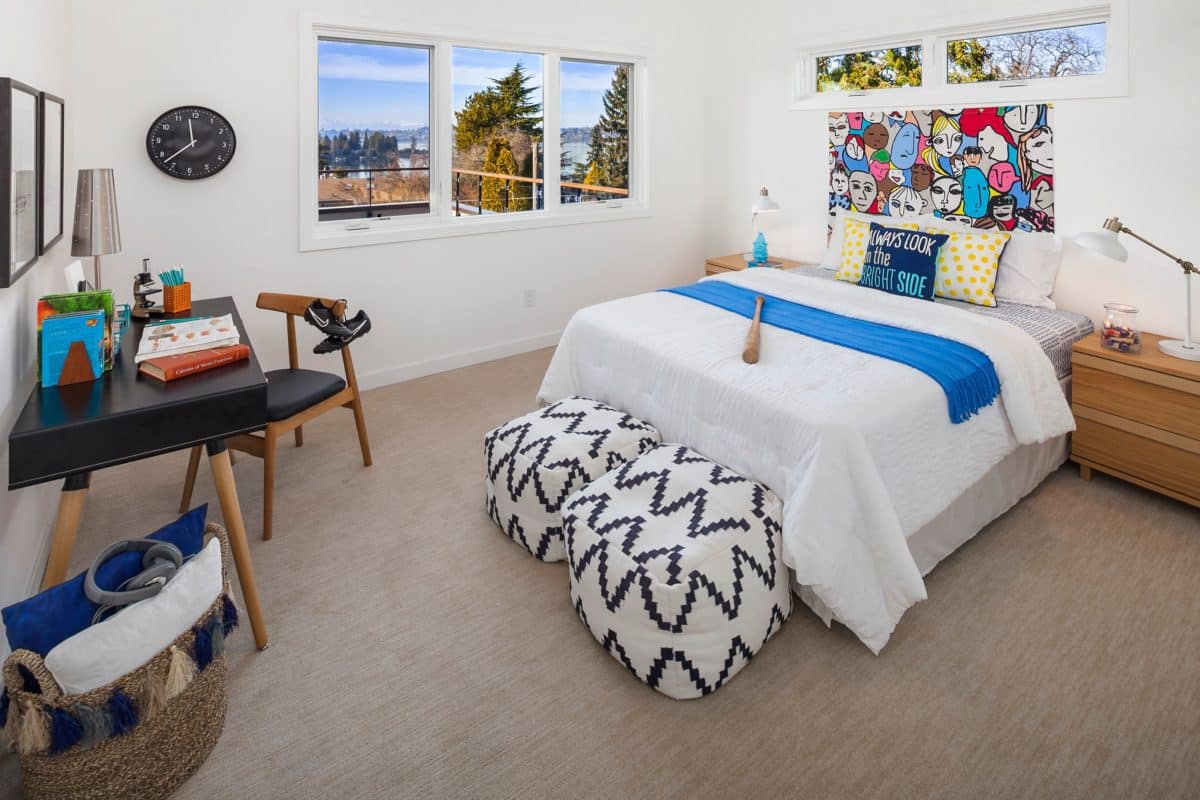 Yarrow Point home, staged kid's room
For this younger kid's room below, we made sure to create a play-haven to make the buyers' imaginations run wild. Creating a play space in a kid's room without adding clutter can be tricky, however it is well worth the effort! We accomplished this by making a teepee and tea party display. The teepee and kid's table neatly contained the props while adding an inviting play space. Kids could imagine themselves reading in the teepee, building their own forts, and inviting friends over for a pretend meal.
By taking kids' everyday lives into account when we stage, our rooms have personality to them. This is what gives our stages flair.
One vital way to create flair for a hip kid's room is choosing the perfect color palette. It is important to capitalize on kids' preferences for cheerful colors whether bright or pastel. While their parents may prefer neutrals for a calming atmosphere, kids are attracted to exciting rooms with colorful hues. If your house doesn't have a bonus room, a playful environment is a must for kids' bedrooms.
For a helpful guide on selecting paint shades for kids' rooms check out this article on House Beautiful.
By choosing a vivacious color palette to create the element of fun, you can then add sophisticated props and accessories to balance out the bright colors. In the above Laurelhurst home, we used black and white as accent colors to soften the bold turquoise theme that we repeated throughout the room. It is important not to overwhelm, but to excite both parents and their kids.
Moral of the story: when you stage kids' rooms it is crucial to remember that you are styling for kids. When you take the young buyers into consideration it makes it more likely for the entire family to be excited about the move. The kids need to connect too by imagining a happy future playing in their new home.
Feel free to share this post:
You might like one of these posts as well...