ften times I come across of home sellers who are either so attached to their homes that is really hard for them to let go or home sellers that just can't fully trust other professionals to help them with preparing their homes for the market. Both of these types of home sellers can create problems and sabotage their own success.
Even though more and more home sellers are informed these days about the benefits of home staging and how important it is to get "me" out of the picture and instead concentrate on the potential buyers, there are those home sellers out there who are not quite there yet.
One of our Mercer Island home sellers, Andrea, fell into the second category.  She had a hard time letting go and trusting us. The interesting point here is that she had called us on her own and prior to hiring a real estate agent. She was informed enough to know that her house had to be staged, but she also had her own ideas.
For those of you who are not familiar with the Greater Seattle Area, Mercer Island is one of the most affluent communities and has highly rated public schools. Many families try to buy homes in Mercer Island because of their great schools. Andrea, who had amazing taste, had made all the right choices for renovating her Mercer Island home. Each of the bathrooms and the kitchen were inviting and glamorous. 
The problem was, Andrea, had her own ideas about the staging, such as not wanting pillows on the sofas and wanting black and white prints for the walls. She also was determined that we should use a single bed in one of the bedrooms that in my opinion, needed to have a queen size bed. She told me over and over that a queen size bed would not fit in the space. But to Andrea's surprise a queen bed did fit in this room easily and we showcased it as a beautiful teen room. For this house, it was very important to showcase another bedroom with a queen size bed vs. another twin bed.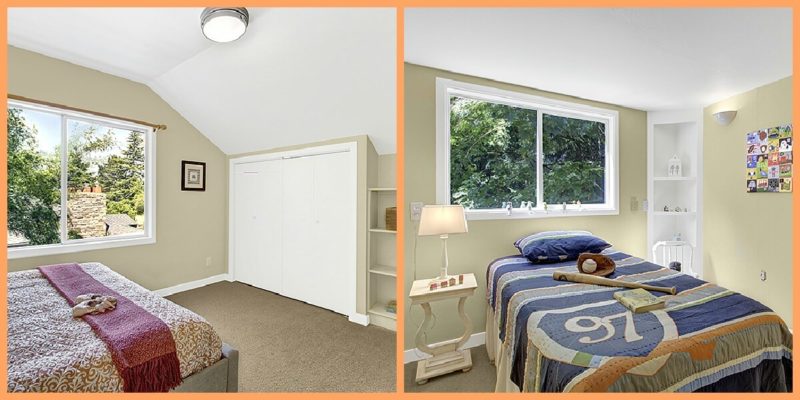 As a professional home stager, it is my job to help the home sellers achieve their sales goals and sometimes, I have to start by earning their trust bit by bit. After all, I do understand that homes are the biggest investments of most home sellers. I visited with Andrea several times and discussed my ideas with her. I also let her know that NOW it was not about her anymore, it was about the home buyers. I asked her for the trust and reminded her that she has hired me for a reason and she should let me do my job. She wanted to come on the staging day and help me stage her home but by the end of our second visit, she knew that as home stagers, this is not how we work. 
Andrea took a leap of faith and entrusted her beautiful house into our hands. On the first day, approximately 80 agents came through the house and the first agent who came in had a written offer for the full asking price. Andrea's house was basically SOLD in ONE HOUR!
I really enjoyed working with Andrea and staging her home was just a delight. As a home stager, I earned the trust of this home seller and this was the key to this happy ending. By trusting us, Andrea allowed us to stage her beautiful home for the home buyers by finally having peace in her heart that her staged home was going to look different from the way she had decorated her own home. As a home stager, the greatest honor that home sellers can bestow upon us is their trust and this is something we treasure.